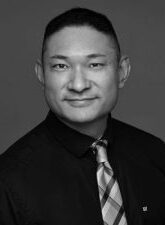 LL.B. (with co-op), 2007 (UVic)
Bachelor of Arts, 2002 (UBC)
Brian is a first-generation Canadian whose parents immigrated from Macau and Hong Kong. He was
born and raised in Vancouver with a strong international perspective, and close ties to Asia. In addition to English, he speaks Cantonese and is conversant in both Mandarin and French.
Brian practices personal injury law for plaintiffs, helping clients who have been injured in car accidents, slip and falls, dog bites, sporting accidents, and assaults. He also manages occupier's liability cases, and can assist in matters involving psychological and emotional injuries. Brian has a broad understanding of personal injuries and insurance claims, having worked at WorkSafeBC, and acted for the Insurance Corporation of British Columbia. His comprehensive knowledge in these areas is an asset to prosecuting his clients' claims.
As an experienced trial lawyer, Brian knows there can be many ways in which to resolve a personal injury claim. Brian works closely with his clients to understand their unique situations in order to determine the best way to proceed. Options may include settlement, alternate dispute resolution or if necessary, the court system. Brian has represented clients at all trial courts in BC, as well as before the Workers' Compensation Appeals Tribunal of BC.
In his spare time, Brian enjoys weightlifting, snowboarding, cooking, playing the piano and travelling.