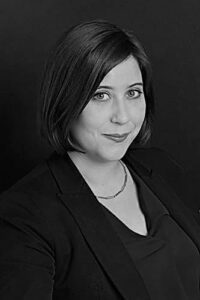 BA, First Class Honours (SFU), JD (UVic)
Jessica is an experienced trial lawyer specializing in civil sexual assault claims. She has exclusively represented plaintiffs since the start of her career. She has appeared in all levels of court in BC. 
Jessica is an empathetic advocate who is inspired by the strength and courage of her clients. She works with her clients to explore out of court resolutions when appropriate, but she is also a fierce and passionate litigator who truly enjoys going to court to advocate for her clients' rights.
 Long before Jessica was a lawyer she was advocating for causes she believed in. She volunteered with a non-profit providing education oportunities for women and girls in Afghanistan, she had a brief stint as a Girl Guides troop leader, she was president of the Women in Law and Poverty Law clubs during law school, and she organized numerous fundraisers for women's transition houses.
Jessica earned a BA in Communications (First Class, Honours) from SFU and a JD from Uvic, where she participated in the Law Co-op program and earned several academic awards. 
Jessica is available to help surviviors of sexual assault all across BC. She primarily works remotely in Vancouver but she also makes frequent trips to Victoria and the Cowichan Valley, where her family resides.